Arrma have recently been having a flurry of new releases starting with the fantastic roller the Arrma Kraton EXB which I briefly introduced on my facebook page, then on the 9th of July they released the details of this bad boy! Which you can pre-order here
Continuing on with their 1/5 scale 8s beasts the Outcast is the next in the line up of those models, how well a 1/5 scale monster like this will hold up to the abuse similar to that of a 1/8 scale model is questionable! We will soon see how durable it is….
But I have to admit it looks "flippin'" amazing (see what I did there)
Features
General Features
ARRMA®-tough design
ARRMA® modular platform with many "custom-build" options
Adjustable battery boxes with hook and loop straps
Chassis brace options including tower-to-tower
Reverse bell crank steering system
Heavy-duty double spring servo saver
Hex hardware throughout
Versatile chassis accepts motors up to 56110 size and 1/6 or 1/5 size servos
2-year limited warranty (see website for details)
Performance
Spektrum™ DX3™ 2.4GHz Radio with SRS6110AT AVC® Receiver
Spektrum™ Firma™ 160A Smart ESC
Spektrum™ Firma™ 1250Kv Brushless Motor
Spektrum™ S905 Metal-Geared Digital Servo
4-Wheel shaft drive
8S Power (two 4S batteries, not included)
Anti-roll bars (optional, not included)
Adjustable camber
Adjustable front toe
Rear adjustable camber link positions
Adjustable ride height
Adjustable droop
20 million cSt oil in center differential
CVD driveshafts
All-terrain dBoots® BACKFLIP tires
Massive 20mm bore oil-filled adjustable shocks
Wheelie bar with rubber tires for maximum stunting
High downforce wing fitted with special wear screws to protect the wing when upside down
Durability
Extra-rigid, laser-etched anodized aluminum chassis
Multi-structured center brace system
Rear lower chassis brace
Strong composite chassis side pods
Under-chassis skids
Metal inserts molded into the front steering knuckles
Metal wishbone covers to prevent the pivot ball from pulling out of the arms
Extra-thick molded composite front and rear shock towers
Heavy-duty drivetrain
Durable steel driveshafts
All-metal diff outdrives and gearbox internals
Spiral-cut crown/pinion gears
Metal differential gears
Metal spur/idler gear
Aluminum sliding motor mount
Heavy-duty dual spring servo saver
Waterproof* receiver box
Electronic ESC power switch
Captured hinge pins
Aluminum hanger inserts
Center protection tower that interfaces with the roll cage for increased body durability
Body clip protection pads on top of body
Single piece wing mount
Heavy-duty front bumper
Metal 24mm hex inserts in wheels
Easy Maintenance
Easy access to front and rear differentials (5 screws)
Easy-to-remove Power Module (5 screws)
Sliding motor mount for easy motor removal (3 screws)
Easy-to-remove chassis braces (1 clip with retainer)
Easy-to-remove front, rear and center modules
Easy-access waterproof* electronics module
Needed to Complete
(2) 4S LiPo Batteries with IC3/EC3 Connector
Compatible Charger
LiPo Charging Bag
(4) AA Batteries
What's in the Box?
(1) OUTCAST™ 1/5 8S BLX 4WD Stunt Truck RTR

(1) Spektrum™ Firma™ 160A Smart ESC
(1) Spektrum™ Firma™ 1250Kv Brushless Motor
(1) Spektrum™ S905 Metal-Geared Digital Servo [40kg-cm; 556 oz-in @ 7.4V]

(1) Spektrum™ DX3™ 2.4GHz Radio with SRS6110AT AVC® Receiver
(1) Product Manual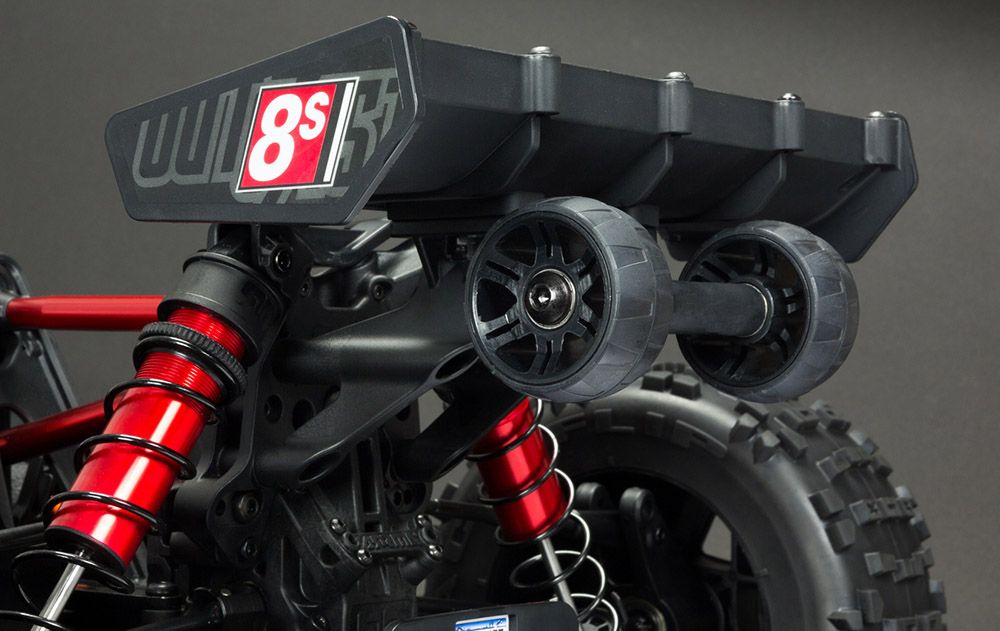 WHEELIE BAR
For when only 90 degree wheelies will do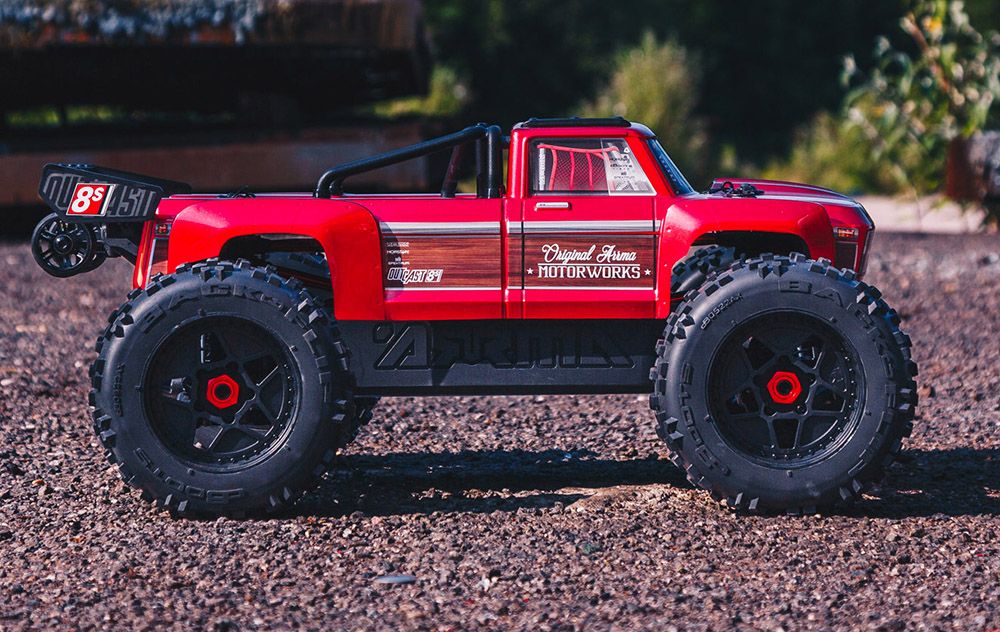 SWB CHASSIS
Responsive stunt performance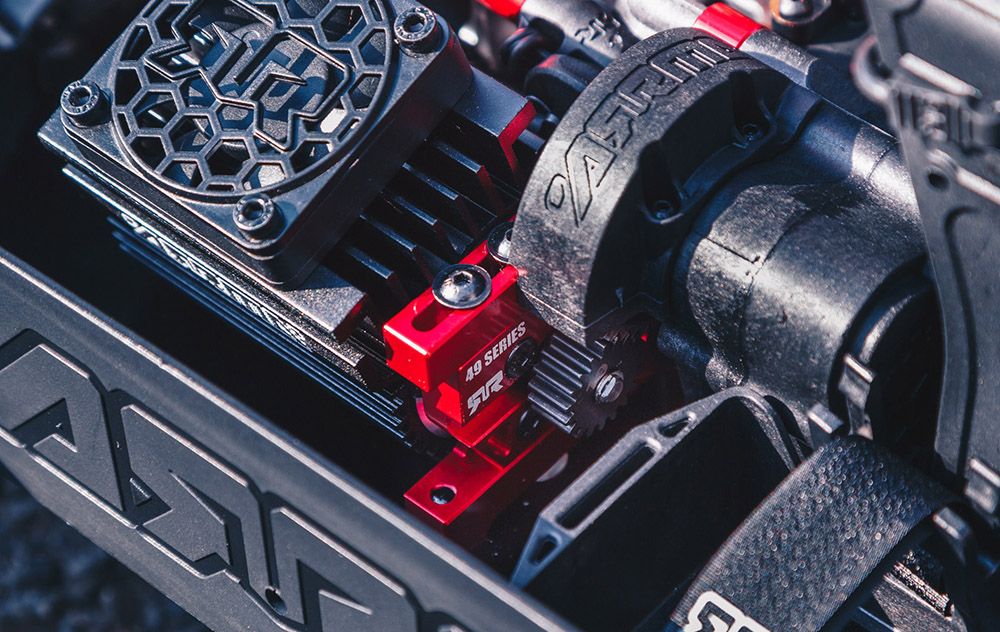 SLIDING MOTOR MOUNT
For easy meshing and quick removal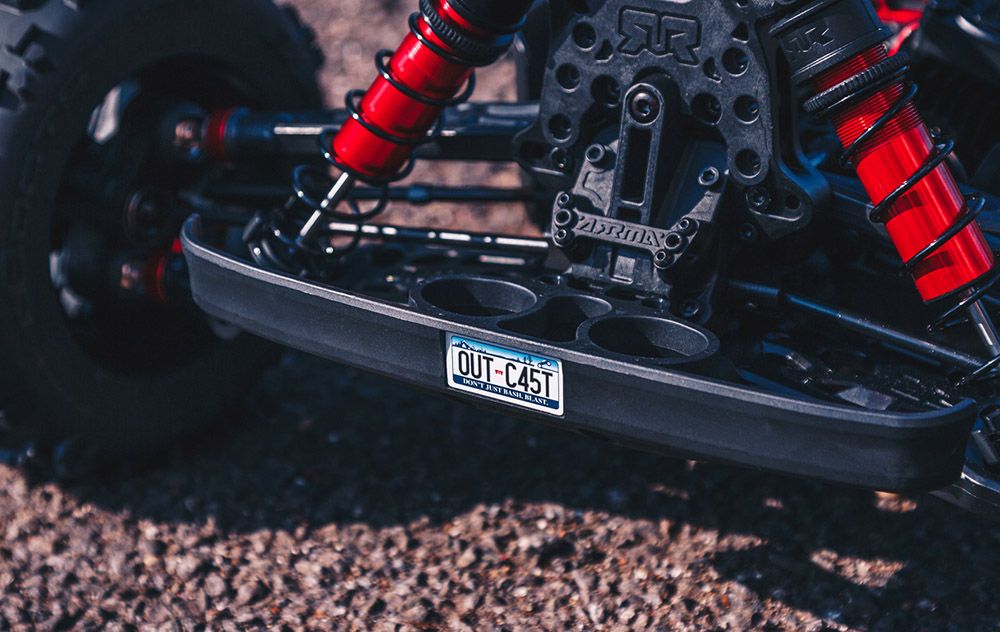 FRONT BUMPER
Stylish looks and functional impact protection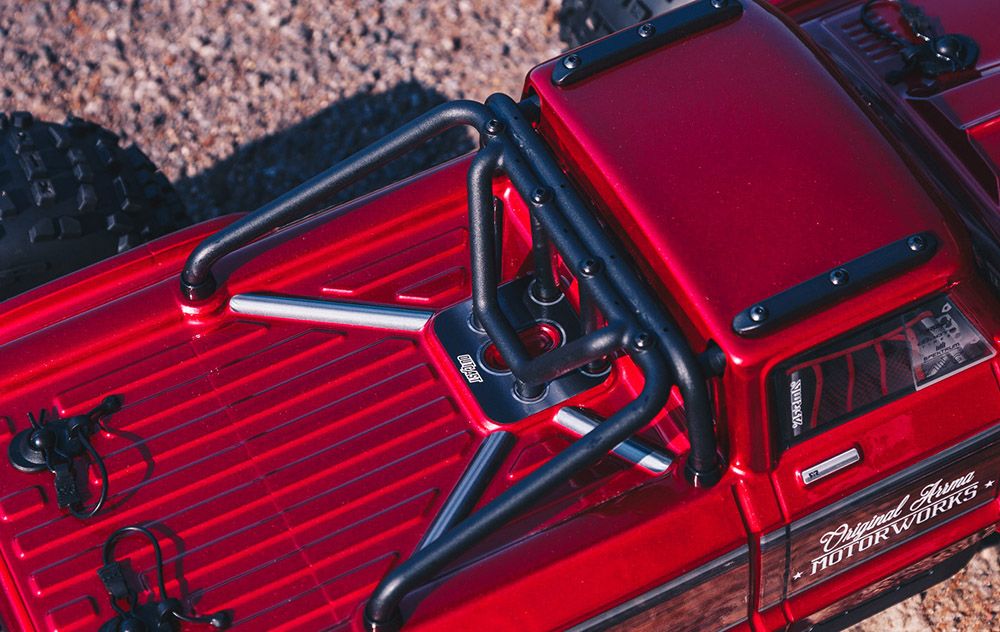 ROLL-CAGE, STUNT RAGE
The stiff roll-cage offers protection against high speed roof-time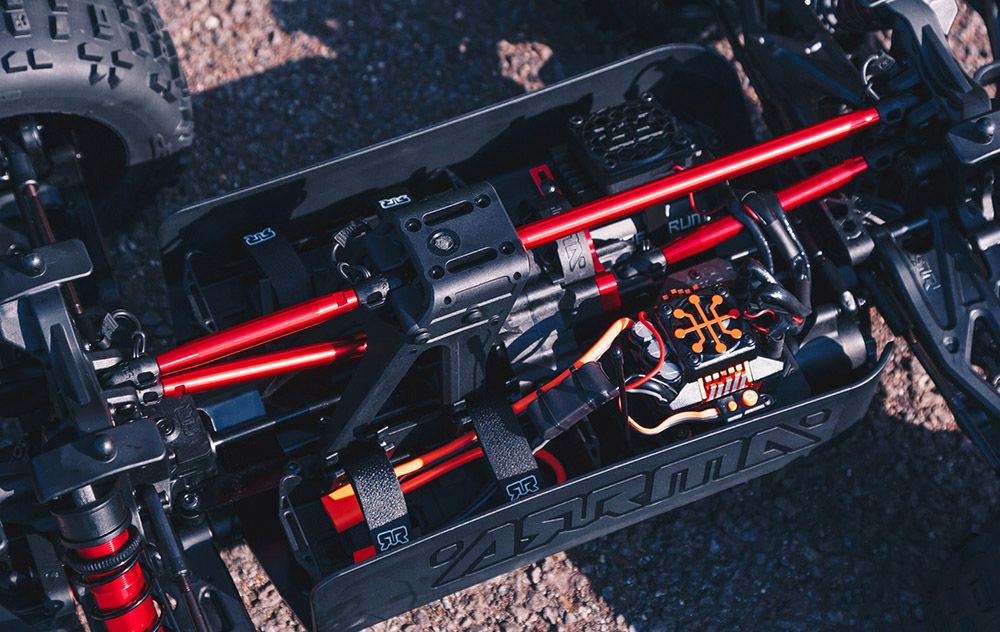 BODY PROTECTION TOWER
Interfaces with roll-cage for enhanced body durability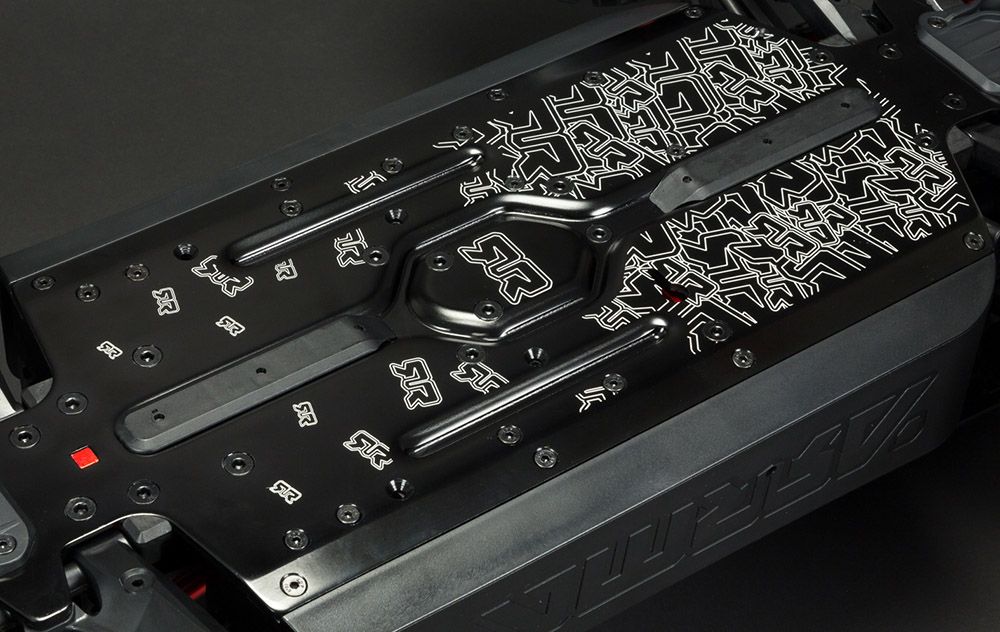 ARRMA BRANDED ALUMINUM CHASSIS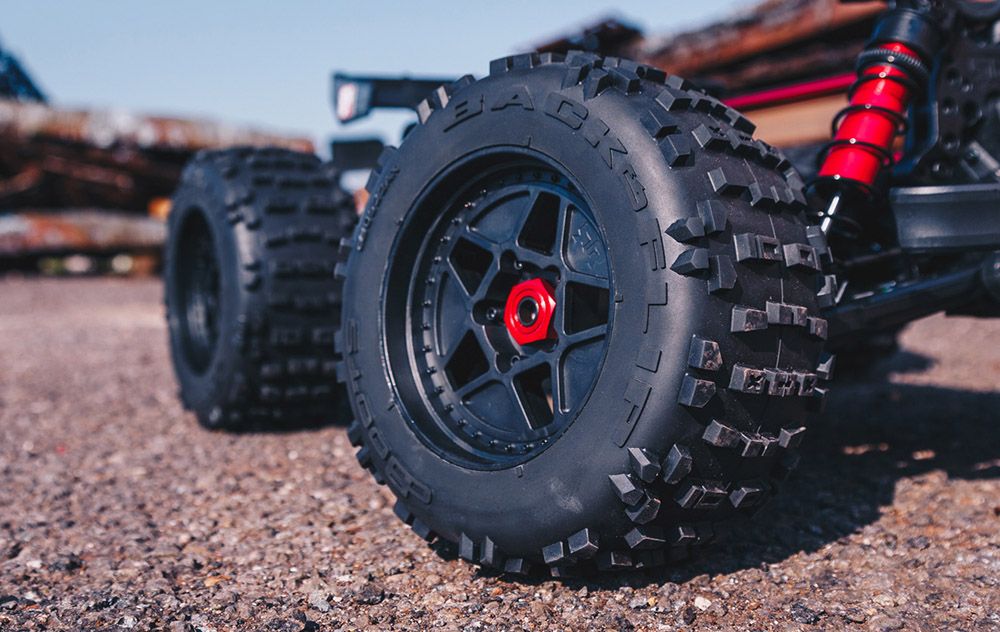 STUNT TRUCK WHEELS & DBOOTS BACKFLIP TIRES
HYPER-DETAILED DECALS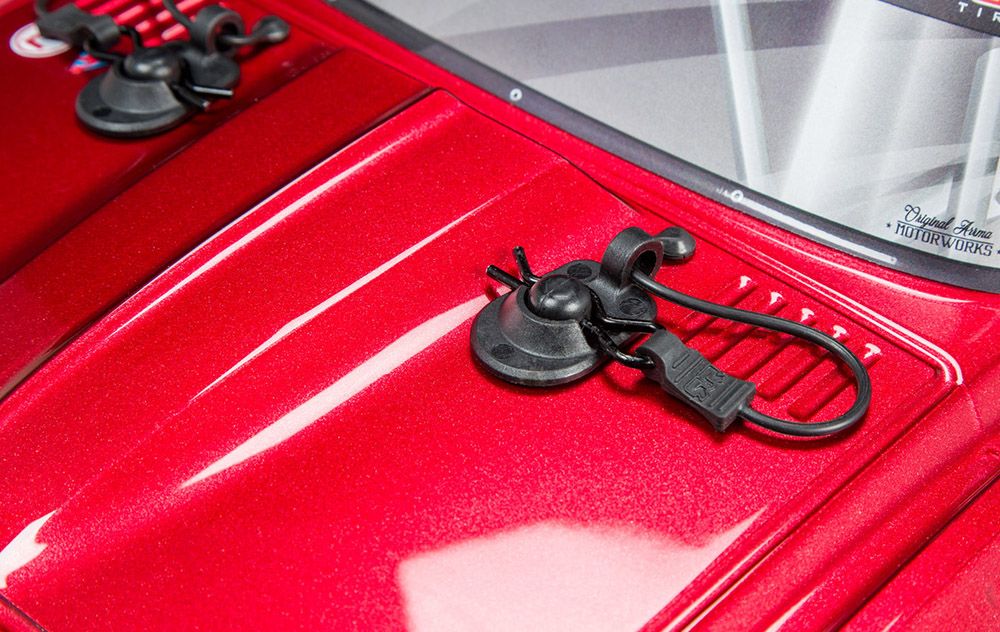 BODY POST SHIELDS WITH INTEGRATED BODY PIN RETAINERS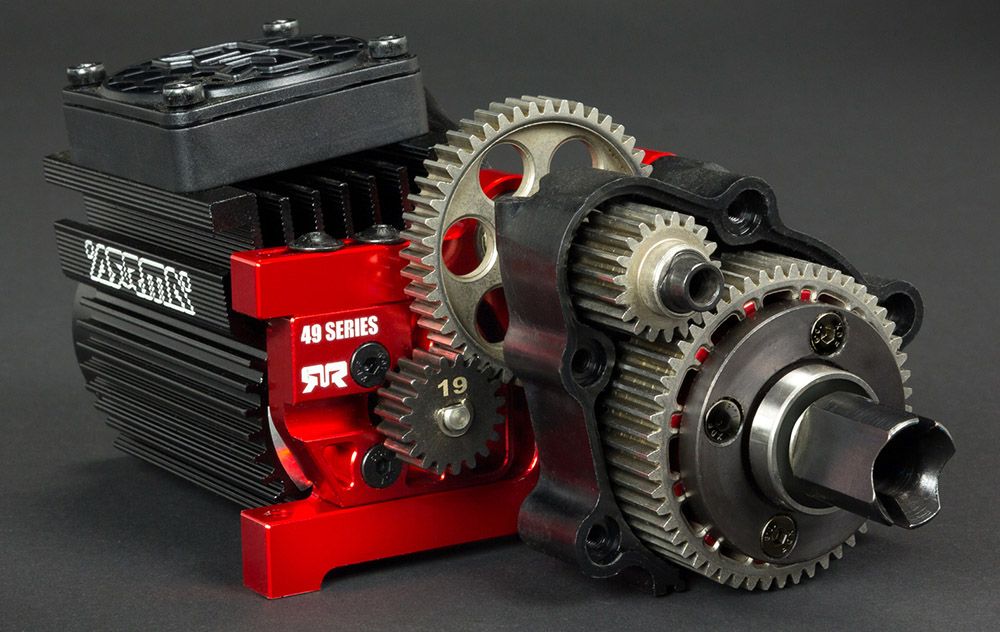 ALL-METAL TRANSMISSION
Center diff filled with 20 million cSt oil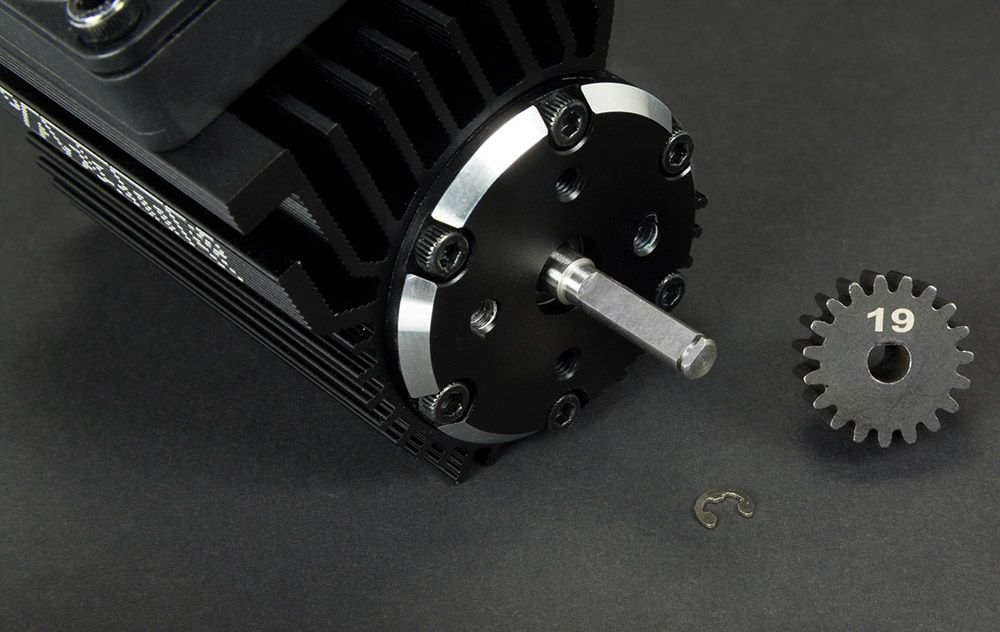 'SAFE-D5' PINION
Safe and Secure SAFE-D5 design secures pinion to the motor in three ways:
1. Set Screw
2. D-Shaped hole
3. E-clip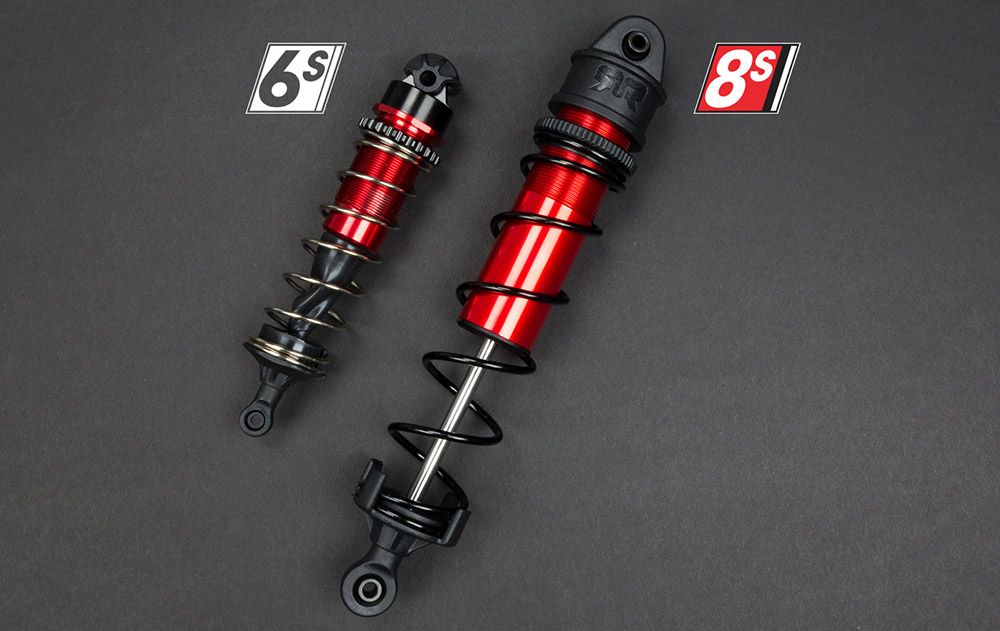 MASSIVE ALUMINUM OIL-FILLED SHOCKS
ARRMA shock size comparison: 6S shock (left), 8S shock (right)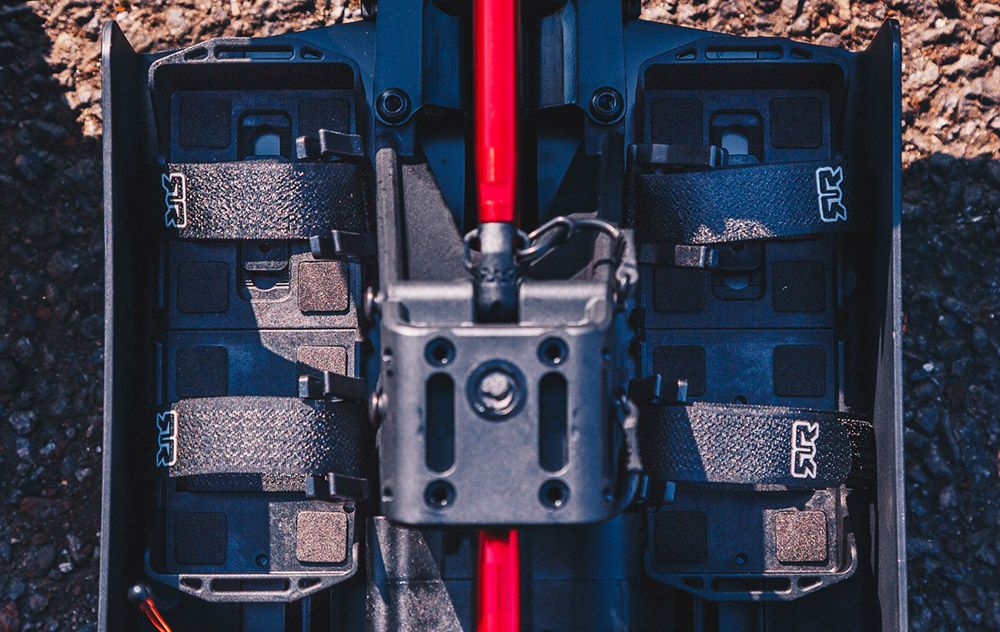 OVERSIZED BATTERY TRAYS
Accommodates a wide range of battery sizes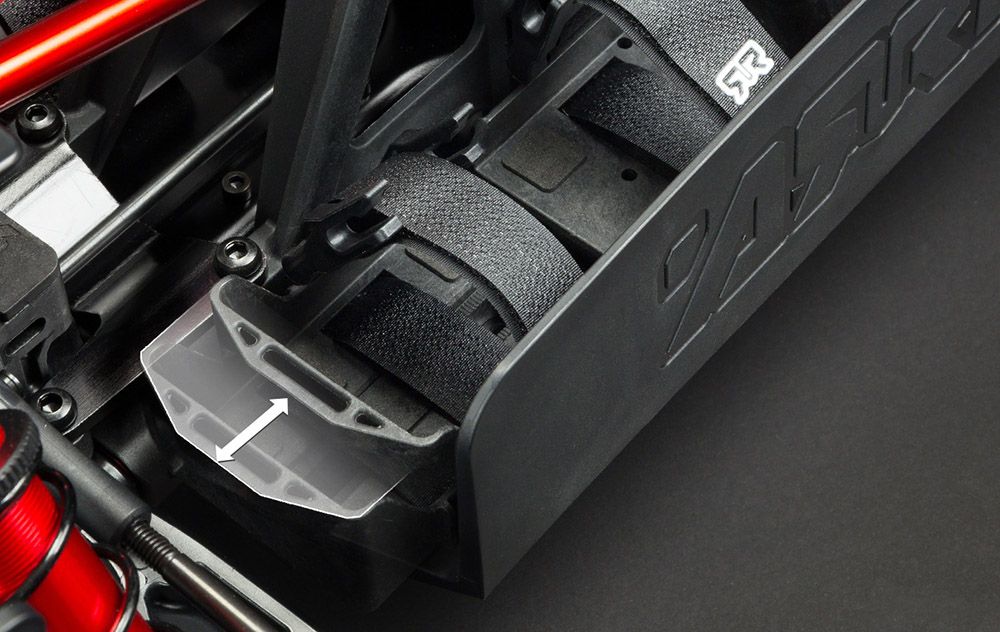 ADJUSTABLE BATTERY TRAY
Length: 140mm-170mm
Maximum Battery Dimensions: 6.69 x 2.16 x 2.08 in. (170 x 55 x 53mm)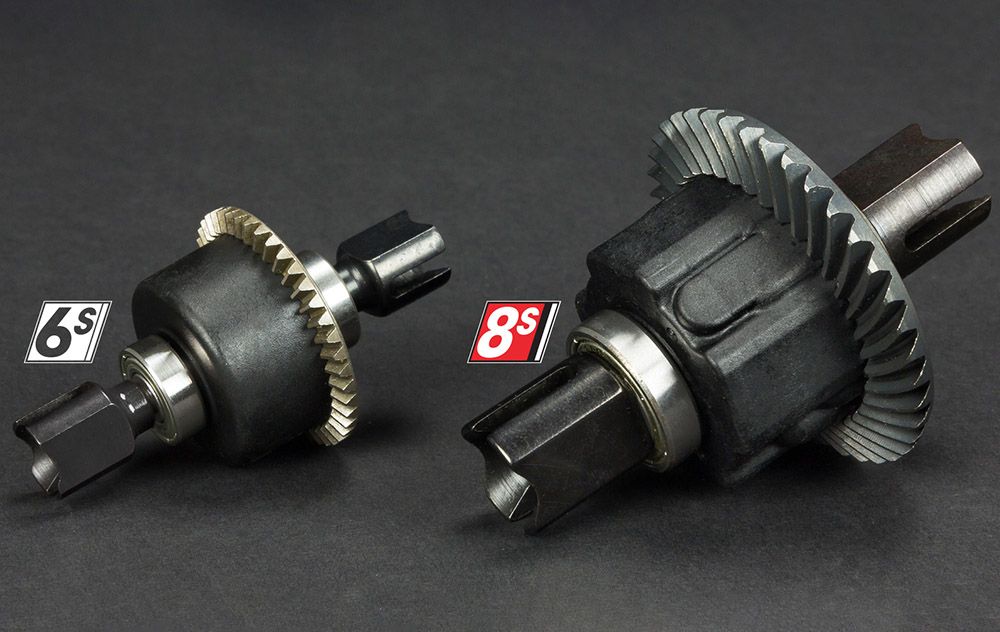 GIANT 8S TOUGH METAL GEAR DIFFERENTIALS
ARRMA diff size comparison: 6S diff (left), 8S diff (right)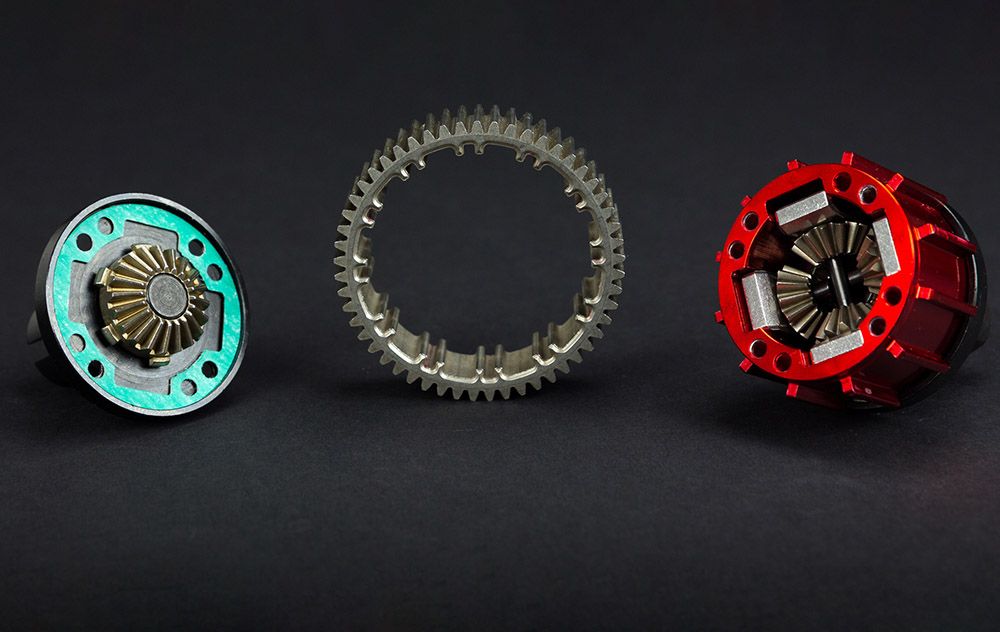 CENTER DIFF EXPOSED
8S ARRMA tough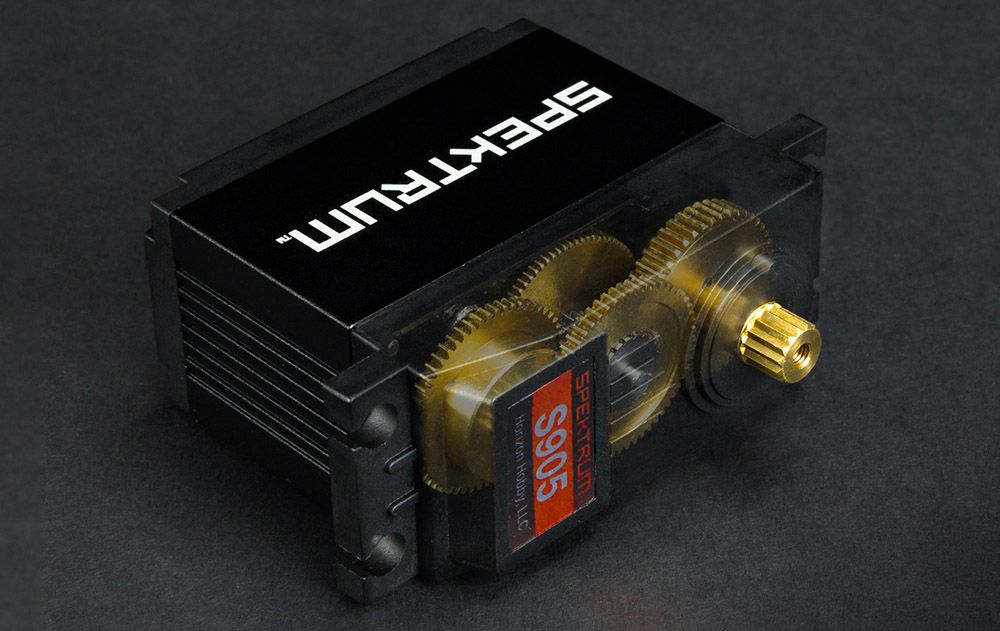 SPEKTRUM S905 METAL GEAR SERVO
Full-size 1/5th scale servo
Strong, metal gears used throughout
Waterproof and dustproof case
15 tooth output spline
Torque: 38kg-cm @6V
Speed: 0.20sec/60degree @6V
Dimensions: 2.36 x 1.14 x 2.17″ (60 x 55 x 29mm)
SPEKTRUM FIRMA 160A SMART ESC
Waterproof and dustproof design
160A, 8S LiPo ready (3S*, 4S*, 6S* and 8S LiPo compatible)
Spektrum® SMART Technology
Fitted with reliable IC5™ connectors (EC5™ compatible)
Integrated fan for reduced heat during extreme running
High quality 10awg wires
Low voltage cut off and thermal overload protection
User programmable punch, brake, BEC, LVC sensitivity, reverse speed and motor timing settings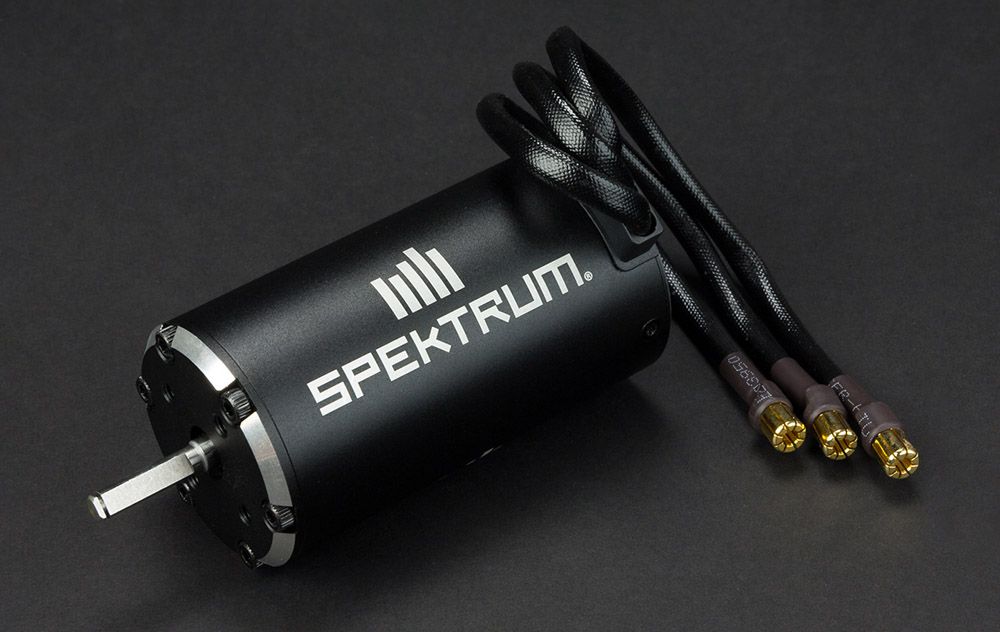 SPEKTRUM FIRMA 1250Kv BRUSHLESS MOTOR
1250Kv 4685 size 8S brushless motor
Beautifully etched aluminum can
4-pole construction for smooth and consistent power
6.5mm gold bullet connectors for reliable and efficient connection
Black anodized aluminum motor can for increased heat dissipation
Super strong 5mm shaft
Groove at the end of the motor shaft allows the installation of a pinion retaining E-Clip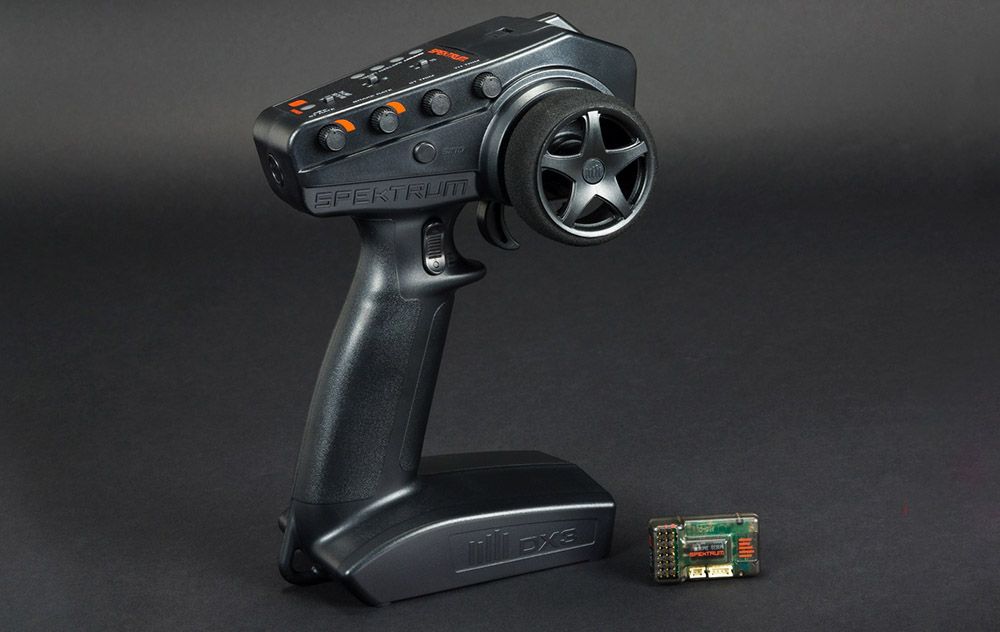 SPEKTRUM 2.4GHz DX3 SMART TX & SR6100 RX
Ergonomic steering wheel for precise control
On-the-fly adjustable AVC® gain for personalized handling
Lightweight and ergonomic design for long bashing
2 channel radio system
2.4GHz technology built around DSMR technology
Full-range telemetry capabilities
CAN BE EQUIPPED WITH SPEKTRUM DASHBOARD
Spektrum Bluetooth module*
DX3 Smart Phone Mount*
Smart Phone with the free Spektrum Dashboard App*
Download the free Spektrum Dashboard app for your smart phone at your preferred app store*Optional items that need to be purchased separately